Tips For Finding Fort Lauderdale Beach Rentals
premierpointvac
Fort Lauderdale beach rental? Relax! Find your dream vacation spot with our tips. We'll help you stay safe and comfortable in an oceanfront home or a cozy condo.
Beach rentals should prioritize safety. Research each location, read reviews, and ask about security. Check that potential properties have locks, smoke alarms, fire extinguishers, and proper lighting.
Following these tips will get you to the beach in no time! You'll find the perfect summer rental with our help. This article will give you tips for finding Fort Lauderdale beach rentals and you'll not even require the BEST vacation rental managers to do so.
Understanding Vacation Rentals In Fort Lauderdale
Relax and sunbake in Fort Lauderdale. This city attracts tourists year-round with its gorgeous beaches, lively nightlife, and many activities. Fort Lauderdale's beachfront community has many vacation rentals. Renting a condo on the beach or an ocean-view home with all the amenities can make your stay more enjoyable and convenient.
Consider how long you'll stay and what type of rental suits you when choosing a hotel. Choose a hotel or a house or apartment. Vacation homes have kitchens, laundry machines, extra bedrooms, living areas, and other amenities that may be important depending on how many people are staying. Hotels offer convenience but lack privacy. Before committing, research prices as they vary by location.
If you get a rental on Fort Lauderdale Beach, you'll have 24/7 access to swimming and watersports! If not, there are plenty of rentals within walking distance of the shoreline with modern amenities and close proximity to restaurants, bars, and shopping centres. Whatever your budget and taste, Fort Lauderdale rentals offer endless options!
Benefits Of Staying At A Fort Lauderdale Vacation Rental
Vacationers benefit from Fort Lauderdale Vacation Rentals. These rentals have many family-friendly features, from private heated pools to condo rentals. Fort Lauderdale vacation homes have full kitchens with stainless steel appliances and granite countertops, spacious living areas, and balconies or patios with outdoor seating. This means you can escape the city without sacrificing comfort. After a day of sightseeing, most rental homes have convenient parking.
Private Fort Lauderdale vacation rentals are great. Without guests or nosy neighbours, you can spend time with your family. For larger groups looking for space and relaxation, some properties have up to five bedrooms. Many rentals have gaming systems or board games for hours of fun!
Fort Lauderdale Vacation Rentals offer a memorable experience for all travellers. From beachfront condos to luxury villas, there's something for every budget and lifestyle.
Condos And Property Types Available
Fort Lauderdale beach rentals offer many condos and property types. Options vary by budget, location, and amenities:
Vacation rentals with full kitchens and laundry
Oceanfront and downtown luxury condos
House rentals near entertainment and shopping centers
Before choosing a property, do your research. Each type has its own benefits. Consider factors like the rental's proximity to other activities, its size and comfort, and its amenities. Consider Fort Lauderdale vacation home deals and seasonal discounts.
Make sure your condo or property meets your budget and needs for a successful trip. Doing so will make visiting beautiful Fort Lauderdale fun!
Best Neighborhoods To Stay In
Consider the best neighborhoods for Fort Lauderdale beach rentals. Downtowns and beach towns offer a variety of options. We've created a table of Fort Lauderdale's most popular neighborhoods to help you find the perfect vacation rental:
Home Deals & Vacation Rentals
Lauderdale's downtown Entertainment, restaurants, shopping, and nightlife in the city center Yes! Here are many home deals. Many affordable vacation rentals are available.
Parks and outdoor activities like swimming and fishing make Plantation a quiet residential area. Family-friendly. Yes! Beautiful homes and vacation rentals are available here. Size and amenities determine prices.
Wilton Manors has tree-lined streets and many cafes and shops. Walkers and cyclists love it! Absolutely! This peaceful area offers long-term and short-term home deals and vacation rentals. Prices vary by accommodation type.
No matter which one you prefer, each of these Fort Lauderdale neighborhoods has something unique to offer visitors seeking an unforgettable experience. From oceanfront views to charming cafes, each has its own charm to make your trip special!
Finding The Right Vacation Rental
Now that you know the best Fort Lauderdale beach rental neighborhoods, find the perfect vacation rental. Fortunately, there are many resources to help you find and book a hotel. Read on to find out more tips for finding Fort Lauderdale beach rentals.
Fort Lauderdale beach rentals can be found online. Travelers can quickly and securely book accommodations on many websites. When browsing online, you'll see results from large companies and small independent properties, giving you all the options.
Check reviews before choosing a property or company. When choosing, consider reviews from previous guests who want to share their experiences. TripAdvisor and Google ratings can reveal vacation rental or related business service quality. This extra effort should prevent surprises at your destination!
After reading reviews and finding a few candidates for your perfect Fort Lauderdale Vacation Rental, contact them directly with any questions about amenities, location, policies, etc. This can ease booking and give peace of mind about the experience. After these steps, you'll be on one of Florida's best beaches!
Tips For Finding Affordable Accommodations
Fort Lauderdale lodging can be difficult to find. Hotels, apartments, and short-term rentals are all options. Tips for finding cheap hotels:
Compare hotel prices online. Consider furnished apartments and vacation homes for more space and amenities at lower rates than hotels. If you don't mind pet-sitting, consider house sitting.
Use Airbnb, Kayak, and HomeAway to find cheap Fort Lauderdale hotels without sacrificing quality or comfort. These sites offer short-term and long-term discounts depending on when you book.
Use free services like Couchsurfing to stay with locals for free if you want to live like a local!
If you're travelling with family or friends, check out airline, car rental, restaurant, and other group discounts.
You can save money while staying comfortably in Fort Lauderdale by doing your research and being open to alternative lodging. The key is knowing where to look—whether it's a hotel, apartment, or something more unique like house sitting or couch surfing, there are many affordable options!
Best Locations For Vacation Home Deals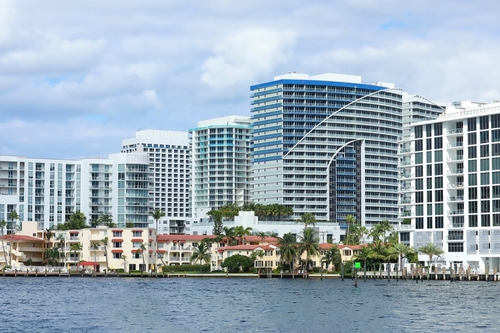 Fort Lauderdale offers budget-friendly vacation rentals. Near Fort Lauderdale Airport, Hollywood Beach, and Las Olas Boulevard, you can find luxurious beachfront villas or cosy condos.
Stay near the action in Downtown Fort Lauderdale or along A1A Highway. Resorts, hotels, and bed and breakfasts are available here. These properties have pools, fitness centres, spas, and more for your convenience.
Many rental homes north of Fort Lauderdale are quieter. The Museum Of Discovery And Science and Bonnet House Museum & Gardens are great for family outings. This area also has great shopping and parks for weekend walks and water sports.
Fort Lauderdale has accommodations for every budget and need. Its beautiful beaches, vibrant culture, and many attractions make it one of Florida's top destinations!
Ideas For Making The Most Of Your Stay In Fort Lauderdale
Renting a Fort Lauderdale beach house lets you maximize your next vacation. Fort Lauderdale has many attractions to entertain and relax vacationers. Everyone can enjoy heated pools, spas, shopping, and museums. If you want to explore beyond Fort Lauderdale, try some of the activities outside the city. Fishing charters on the intracoastal waterway or kayaking through mangrove swamps can create lasting memories.
If sunbathing isn't your thing, Fort Lauderdale's beauty can be enjoyed by biking along A1A or taking a boat tour around nearby islands. You might even try parasailing or jet skiing across the ocean. Local seafood restaurants and Las Olas Beachfront Promenade concerts are also fun.
Pamper yourself too! Enjoy spa treatments and yoga classes to return home refreshed. Fort Lauderdale beach house rentals offer adventure, relaxation, and self-care, making for a memorable vacation!
Places To Explore Nearby
Fort Lauderdale has many attractions. Fort Lauderdale beach rentals put most attractions within walking distance. No transportation means exploring is fun!
Greater Fort Lauderdale beaches offer many activities. There are miles of white-sand beaches with clear waters for swimming and snorkeling. Children can splash around on the shallow shorelines without fear of drowning. Parks, restaurants, cafes, and more line the beaches and offer stunning oceanfront views.
Fort Lauderdale has museums, shops, golf courses, marinas, and beaches. These venues host concerts, art exhibits, boat tours, and nature hikes. Enjoy local seafood and Atlantic Ocean sunsets to end your sunny city vacation.
In greater Fort Lauderdale, you'll find adventure or relaxation at a beach rental near Fort Lauderdale Beach!
Things To Do In Fort Lauderdale
Fort Lauderdale has many exciting attractions. Outdoor or cultural, there's something for everyone here. Fort Lauderdale's beaches and arts scene draw visitors.
Fort Lauderdale beaches are a must-see. The city has miles of coastline for swimming, sunning, snorkeling, and more. Many beachside restaurants offer seafood and ocean views for those who want to step it up. Book an affordable beach rental in advance for a comfortable stay.
Las Olas Boulevard is Fort Lauderdale's nightlife hub. This lively strip has some of the city's best bars and nightclubs with live music and all-night dancing! Las Olas Boulevard has great shopping, so bring your wallet!
Fort Lauderdale's beaches, clubs, and restaurants are always changing. If you're heading south, check out this coastal town—you won't be disappointed!
Popular Activities And Attractions
After seeing Fort Lauderdale's top attractions, rent a beach house. Fort Lauderdale has many short-term and long-term rental options for everyone. Tips for finding the perfect rental property:
Airports nearby Find properties near Fort Lauderdale International Airport or nearby Plantation, Hollywood, Pompano Beach, and more. This will streamline travel. Easy airport and local transportation.
Search online. Compare prices and amenities on Airbnb and VRBO. Before booking, read previous renter reviews to get an honest assessment of each location. Compare listings, read unbiased reviews, and save with discounts/promotions.
Waterfronts Visit Lauderdale by the Sea, Deerfield Beach, Coconut Creek, or Fort Lauderdale itself for a beach or waterfront day! Enjoy sunsets, nature, local attractions, and direct contact with Fort Lauderdale property owners.
No matter your budget or preferences, these tips should help you find a rental! From affordable apartments near South Florida's major airports to luxurious oceanfront condos on Broward County's most beautiful beaches, there's something for everyone looking for an affordable, memorable stay. Start planning your getaway today to experience this amazing region.
How To Book A Vacation Rental
Fort Lauderdale vacation rentals are exciting. You'll experience this incredible city's best with the right tips and tricks.
First, research vacation destinations and ideas. Compare amenities, pricing, distance from attractions, and other factors to find the perfect rental. Before choosing, check local overnight stay laws.
After narrowing your options, book a vacation rental. Contact property owners or managers via their website or social media. Thus, you can directly discuss availability dates and payment plans. The rental home owner or manager may accept phone or email reservations if they don't have a website. Before booking, read cancellation policies to know what happens if something goes wrong.
Now that your vacation is ready, plan activities! From exploring historic Downtown Fort Lauderdale to swimming at A1A beaches, Florida's most popular destination has plenty of fun things to do! Have fun exploring Fort Lauderdale!
Hints On Getting The Best Rates And Deals
For the best rates and deals on Fort Lauderdale beach rentals, keep these tips in mind. Decide when to visit first. Avoid peak season—spring break and summer holidays—when prices are higher. Consider booking accommodations around local events like art festivals or concerts to save money.
Next, find your ideal neighborhood in Florida. There are many options near the coast, so read reviews of specific properties and locations and consider amenities like pools, private balconies, shopping centers, and more to narrow down your search. Tips:
Airlines and travel agents offer vacation packages with discounted flights and Fort Lauderdale Beach Rentals.
Compare rental websites because each may offer different specials or discounts.
Use loyalty programs to earn points for future trips!
Finally, know how far the property is from Fort Lauderdale International Airport (FLL). This will determine whether you need airport transportation and which vehicle you need for city travel. All of this should ensure a fun and cost-effective trip!
Travel Tips For Visiting Fort Lauderdale
Fort Lauderdale, Florida offers a relaxing and memorable vacation. Before booking your flight, consider many factors when planning your trip. Choosing the right Fort Lauderdale beach rental and car rental will ensure a relaxing and enjoyable stay.
First, a good Florida vacation rental can make all the difference. Find reliable local companies that offer great deals on beach or other attraction rentals online or by asking around. To avoid overspending, check out what's available within your budget.
Booking airport-to-destination transportation is crucial. Rent a car at Fort Lauderdale Airport if you don't want to take public transportation. It's cheaper than taxis and gives you more freedom to explore the city. If possible, check traffic conditions before leaving to save time.
Follow these tips to ensure a smooth and enjoyable stay in Fort Lauderdale, no matter how long. You owe it to yourself to maximize your Florida vacation by planning ahead, including travel arrangements!
Fun Getaways From Fort Lauderdale
Fort Lauderdale offers many fun getaways. Fort Lauderdale's beaches have miles of white sand north of the city. Renting bikes or kayaks and exploring nearby islands or swimming in one of the many crystal-clear lagoons can easily fill a day here.
Miami Beach, with its art deco buildings and nightlife, is south of Fort Lauderdale. Boca Raton, a few miles south, has great shopping and restaurants. Wildlife watching is possible on mangrove boat tours!
Finally, why not drive to Orlando? Walt Disney World Resort and Universal Studios Florida make this city fun for all ages. Orlando has plenty of entertainment, from Magic Kingdom Park to Islands Of Adventure Theme Park's Incredible Hulk Coaster!
Final Thoughts
Find your ideal vacation rental in Fort Lauderdale. When renting, consider cost, restrictions, pet-friendly options, and discounts.
Fort Lauderdale rentals average $100–200 per night, depending on location and amenities. Check Fort Lauderdale's short-term rental rules before booking. Pet-friendly hotels and extended stay discounts may save you money.
In peak season, popular spots fill up quickly, so book early. With careful planning and research, you'll find a great beach rental that meets your needs. On your next vacation, keep in mind these tips for finding Fort Lauderdale beach rentals.
FAQ
What Is The Average Cost Of A Fort Lauderdale Vacation Rental?
Fort Lauderdale vacation rentals: how much? Your rental's type, size, and location can greatly affect its average cost. However, there are many ways to save money while enjoying one of Florida's most popular cities. This article discusses how to find affordable beach rentals.
Finding a vacation rental starts with setting a budget. Before choosing, consider transportation, food, and activities. Plan ahead for peak season prices. Compare hotels, Airbnb, HomeAway, and VRBO. Online deals may beat local ones.
After choosing a price range, start looking for Fort Lauderdale Beach Rentals locations. Before booking, check TripAdvisor and Yelp for honest property reviews. Swimming pools, outdoor space, and parking may also affect the price. Finally, don't forget taxes and other rental fees—they add up fast!
Research Fort Lauderdale beach rentals ahead of time and make sure you understand what's included before signing a lease. You can find the perfect vacation spot without breaking the bank with a little planning and effort!
Does The City Of Fort Lauderdale Have Any Restrictions On Vacation Rentals?
Fort Lauderdale vacation rentals? Know the city's rental restrictions before booking. Understanding these rules can help make your stay stress-free.
Fort Lauderdale regulates vacation rentals. These include short-term rental registration, renter insurance, and bedroom occupancy limits. Renters may also need to follow town zoning or noise laws.
Before booking your stay, check the local laws to avoid fines or unpleasant experiences. Ask about neighbors or other guests who may cause problems during your stay. With proper preparation and research, you can enjoy a peaceful and relaxing visit to beautiful Fort Lauderdale while staying legal.
Are There Any Pet-Friendly Vacation Rentals In Fort Lauderdale?
Fort Lauderdale pet-friendly vacation rentals? This is a crucial question for many beach vacationers. It depends on your definition of "pet-friendly" and what amenities and rental cost you want. Four Fort Lauderdale pet-friendly rental tips:
Read pet policies before booking a property. Some properties have weight or breed restrictions, while others are more lenient.
Look for Amenities—Many pet-friendly rentals have fenced yards, dog beds, and pet accessories like toys, collars, and leashes. Knowing how these extras enhance the experience can help you decide if it's worth paying more for listings with them.
Compare Locations– Consider how close the rental is to off-leash beaches and parks. A nearby rental is essential if you want to take your dog outdoors.
Size– Finally, consider how many people will attend and whether the space can accommodate them (including Fido). Check for group discounts too!
Considering the above factors can make finding a pet-friendly rental easier! You'll find the perfect family vacation spot near Fort Lauderdale Beach with research and patience!
Are There Any Discounts Available For Extended Stays?
Extended stay discounts? Ask your rental property about discounts for longer vacations. Ask about special offers—some properties offer discounts of up to 20%.
Comparing Fort Lauderdale beach rentals also helps. Different properties may offer attractive long-term stays specials. Compare amenities and deals. Before renting, consider all your options.
With a little research, you can find cheap extended stay accommodations. Consider how much value you'll get from any potential savings—this extra cash can make all the difference!
How Far In Advance Do I Need To Book A Vacation Rental?
Vacation rentals are best booked early. Knowing how far in advance to book your rental can help you get what you need for your trip without having to settle. Tips for planning your stay:
Pre-research Fort Lauderdale beach rental companies or websites.
To speed up your search, know where you want to stay.
Based on your needs, consider hotels, apartments, condos, etc.
Booking directly with owners may be cheaper than booking through larger agencies.
Travel price seasonality and location availability will determine how far in advance you should book. Start looking for vacation rentals about six months before your departure date to give yourself enough time to research and make sure there's availability. If there are discounts for extended stays, booking early could save money too!
Considering all these factors beforehand prevents disappointment and makes it easier to find the perfect vacation spot that fits your budget and preferences. Doing research online or reaching out directly now can pay off when you hit the beach!