What Is A Vacation Rental
premierpointvac
We want new travel and lodging experiences to make our vacations memorable. Vacation rentals help. They offer a refreshing alternative to traditional hotels, letting travelers like you and me live like locals during our vacations. This article will help you discover what is a vacation rental and how it can help vacation-goers ease up their experience.
Short-term vacation rentals are privately owned properties. These include cozy apartments in bustling city centers and luxurious villas on exotic beaches. These properties often have fully equipped kitchens, spacious living areas, and private pools or gardens.
Vacation rentals let you customize your stay to your preferences. If you want to escape the cookie-cutter hotel rooms and try something new, consider a vacation rental. Step out of your comfort zone and explore an innovative travel world with endless possibilities.
What Is A Vacation Rental
After a day of sightseeing, imagine entering your cozy vacation rental to unwind. Vacation rentals offer a home-away-from-home experience. Vacation rentals, unlike hotels or resorts, offer guests a fully furnished home-like experience. It's a unique way to travel and experience the local culture while staying in a comfortable home.
Vacation rentals let you set your own schedule. You can wake up whenever you want, cook meals in your own kitchen, and spend lazy mornings lounging before your day's adventures. Vacation rentals are ideal for families and groups of friends because they have multiple bedrooms and large living areas. After sightseeing, everyone can unwind in their own space.
Vacation rentals have a unique charm. Each property is unique and reflects the local style and ambiance. Vacation rentals are unique, whether they're beachfront cottages, mountain cabins, or city lofts.
Vacation rentals offer a unique experience. They provide comfort, convenience, and an intimate connection with your surroundings.
Let's examine the market overview to see how this innovative idea has changed travel.
Market Overview
There are many vacation lodging options. Vacation rentals have become popular. Three things to remember as I review the vacation rental market:
Growing Demand: The demand for vacation rentals has been steadily increasing as more travelers seek unique and personalized experiences. Unlike traditional hotels, vacation rentals offer a home-like atmosphere with amenities such as fully equipped kitchens and spacious living areas. This growing demand has led to an expansion of rental properties available in various locations around the world.
Diverse Offerings: The market for vacation rentals is incredibly diverse, catering to different preferences and budgets. From cozy cottages by the beach to luxurious villas nestled in the mountains, there is something for everyone. Additionally, vacation rental platforms provide filters and search options that allow travelers to find properties based on specific criteria like the number of bedrooms or pet-friendly accommodations.
Economic Benefits: Vacation rentals not only offer unique experiences but also economic benefits for both property owners and local communities. Homeowners can generate income by renting out their properties when they're not using them themselves. This can help offset mortgage costs or even become a profitable business venture. Moreover, local businesses benefit from increased tourism as visitors staying at vacation rentals often explore nearby shops, restaurants, and attractions.
After reviewing the vacation rental market and its rising popularity among travelers, let's look at the different types of properties available for your next vacation.
Types Of Properties
Let's examine the types of properties available for your next unforgettable vacation.
Vacation rentals are endless. From cozy, furnished apartments in bustling cities to luxurious villas overlooking pristine beaches, every traveler's taste and preferences are met.
Furnished apartments are ideal for city dwellers. Fully equipped kitchens, large living areas, and stylish decor make these properties feel like home. You can live like a local while staying in a vacation rental.
However, a villa may be ideal for a more private getaway. Wake up to breathtaking views of rolling hills or crystal-clear waters outside your window. Private pools, gardens, and butlers are common in villas. It's unmatched in luxury and relaxation. With so many options, choosing a vacation rental is fun. There are accommodations for urban adventures and tranquil getaways. So prepare for a remarkable journey with unforgettable memories.
Later in this guide, we'll discuss how each property's unique features can improve your vacation without sacrificing comfort or style.
Accommodation Options
Vacation homes are popular. Travelers can relax in these spacious homes with all the amenities they need. Vacation homes, whether they're mountain cabins or beachfront villas, offer a more personalized experience than hotels.
Vacation rentals are another option. These rentals are like vacation homes but more flexible and affordable. Vacation rentals can be condos, houses, treehouses, or houseboats. Travelers can find their ideal rental with so many options.
Vacation rentals let you live like a local. Travelers can experience the local culture and lifestyle by staying in residential areas rather than tourist hubs. For an authentic experience, they can visit local markets, eat at neighborhood restaurants, and talk to locals. Vacation rentals often have full kitchens, so guests can cook their own meals and save money on dining out.
Consider vacation homes and rentals for your next vacation. There are endless options for every traveler's taste and budget, from large houses to treehouses and houseboats. Why stay in a boring hotel when you can rent a vacation home?
Let's explore the rental rules without sacrificing fun!
Rental Rules And Regulations
Note that renting a vacation home or rental property has specific rules. These rules ensure guest and property owner safety and comfort. To avoid misunderstandings and conflicts during your vacation rental, read these rules and regulations.
Occupancy limits, noise restrictions, smoking policies, pet policies, and check-in and check-out procedures are typical rental rules. Before booking, read each vacation rental's rules. Some properties limit guests or charge extra for extra occupants. Some have smoking or pet-free zones.
Most vacation rentals have cleanliness and maintenance standards. Guests usually clean up after themselves. If not, your security deposit may be deducted for extra cleaning. Vacation rentals require knowledge of these rules. You can make your stay enjoyable and hassle-free by reading these rules beforehand.
Comparison: Vacation Rental Vs. Hotel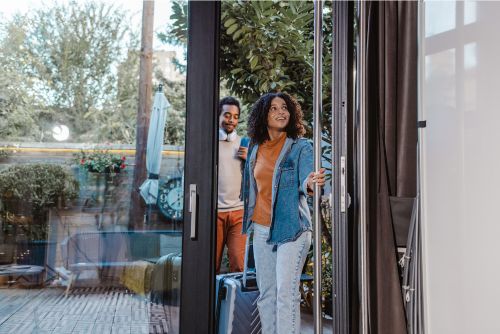 Compare vacation rentals to hotels to see the benefits. Vacation rentals and hotels have important differences that can affect your next vacation. Examine their differences:
Vacation Rental
Vacation rentals offer more space to relax than hotels. Vacation rentals offer space for everyone, whether it's a cozy cabin in the woods or a large beachfront villa.
Vacation rentals often have full kitchens, living rooms, private pools or hot tubs, and laundry facilities. These amenities let you vacation like a local and enjoy home comforts.
Hotel
Convenience and services: Hotels offer housekeeping, room service, concierge services, and fitness centers or spas. If you like things done for you, this may appeal to you.
Social atmosphere: Hotels are bustling hubs where international guests gather in lobbies and restaurants. Staying at a hotel may be better if you like meeting new people and having fun.
These differences show that vacation rentals and hotels suit different travel styles and preferences.
We'll explain why vacation rentals can improve your trip more than hotels in the next section.
Benefits Of Vacation Rentals
Vacation rentals let you fully immerse yourself in local culture and have a more authentic travel experience. Vacation rentals are more spacious than hotels and make you feel at home.
You can have your own kitchen, living room, patio, and garden. This hotel alternative lets you shop at local markets, cook with local ingredients, and live like a local. Thus, you save money on dining out and experience local flavors.
Vacation rentals can generate income when you're not using them. Vacation homeowners often rent them out when they're not using them. This adds income to help cover the second property's costs. Airbnb and VRBO make listing and managing rental properties easy, making this option more appealing to homeowners.
Vacation rentals offer many benefits over hotels, including cultural immersion and extra income. Vacation rentals offer privacy, unlike hotels, where guests and staff come and go throughout the day. Vacation rentals with private pools or hot tubs enhance relaxation.
Before renting a vacation home for your next trip, consider several important factors. These include location, amenities, safety measures taken by the owner or management company (such as secure locks or surveillance cameras), guest reviews on cleanliness and overall satisfaction, cancellation policies, and any additional fees. These factors can help you have a great vacation rental experience.
To make an informed decision that meets your travel needs, consider all these factors before renting.
Factors To Consider Before Renting
Knowing what is a vacation rental, consider these crucial factors to ensure your dream vacation is perfect.
Vacation rentals require careful property management evaluations. Well-managed vacation rentals can improve convenience, comfort, and satisfaction. Look for professionally managed rentals by reputable companies or individuals with a history of excellent service.
Before renting a vacation home, consider its location. Whether you want a beachfront getaway or a city adventure, the right location can make all the difference. To easily access attractions, amenities, and transportation, consider location.
The vacation rental's features and amenities are as important as management and location. Check that the property meets your requirements. Every detail matters when making vacation memories, from spacious living areas and fully equipped kitchens to private pools and breathtaking views.
Finally, read guest reviews of the rental property. This can help you anticipate your stay. Pay attention to both positive reviews and guest complaints.
These factors will help your vacation rental exceed your expectations. Before finalizing your plans, learn about vacation rental regulations to avoid problems and enjoy your well-deserved vacation.
Understanding Vacation Rental Regulations
Understanding vacation rental laws can make renting easier. Vacation rentals have local rules. Before renting, read these rules: You can avoid problems by knowing the local rules.
Vacation rental laws are meant to protect guests and hosts. Safety, zoning, noise, and insurance regulations are common. Some cities limit vacation rental guest numbers or require hosts to obtain permits or licenses. Understanding these laws will help you choose a safe, comfortable rental property.
Vacation rental regulations affect neighboring communities. Some areas have strict short-term rental rules to prevent disturbances. Noise, parking, and rental time restrictions apply. These rules will help you respect the local community while on vacation.
Understand the vacation rental platform's or management company's policies as well as local laws. Cancellation fees, check-in and check-out procedures, cleaning expectations, and refund policies may be included. Avoid misunderstandings and disappointments by reading these guidelines before your stay.
Selecting the right vacation rental requires knowledge of regulations. After covering this important topic, let's discuss how to find the perfect vacation rental that meets all your needs and preferences without sacrificing quality or convenience.
Choosing The Right Vacation Rental
Find the right vacation rental to make your trip memorable and stress-free. Vacation rentals can make or break your trip. Do your research and consider your priorities with so many options.
Consider the vacation rental location first. Do you prefer the beach or a busy city center? Explore nearby attractions and activities during your stay. Consider transportation and nearby restaurants and groceries.
Next, consider vacation rental size and layout. Is your group big or small? Give everyone enough space. Check the number of bedrooms, bathrooms, living rooms, and outdoor spaces.
Consider whether you want a short-term or long-term rental. Check for minimum and maximum stay requirements at vacation rentals. Long-term rentals may be cheaper for extended vacations.
Vacation rentals require careful consideration. You can find a home-away-from-home that meets your needs by considering location, size, layout, and duration.
After finding the perfect vacation rental, it's time to manage it well during your stay!
Managing A Vacation Rental Property
With the right strategies, you can give guests a great vacation rental experience. To make a good impression, property owners must stay organized and communicate.
Key vacation rental management strategies:
Streamline the booking process: Make it easy for potential guests to book your vacation rental by providing an online platform where they can check availability, view photos, and make reservations. Utilize reliable booking management software that allows guests to easily navigate through the reservation process.
Provide exceptional customer service: Promptly respond to inquiries and be available throughout your guests' stay. By offering personalized recommendations for local attractions or addressing any concerns promptly, you can enhance their overall experience and encourage positive reviews.
Ensure guest satisfaction: Regularly check in with your guests during their stay to ensure everything meets their expectations. Address any issues promptly and provide solutions that go above and beyond.
Vacation rental management requires operational tasks:
Maintain cleanliness and maintenance: Regularly clean the property between guest stays to uphold high standards of cleanliness. Conduct routine inspections to identify any maintenance needs so that repairs are addressed promptly.
Establish clear guidelines: Clearly communicate your house rules and expectations regarding noise levels, parking arrangements, smoking policies, etc., both before arrival and upon check-in. This helps set boundaries while ensuring everyone has an enjoyable experience.
These strategies will help vacation rental property managers and owners make guests feel valued and cared for. Satisfied customers will leave reviews and book again.
Moving on to "safety and security measures," property owners must prioritize guest safety as well as customer service.
Safety And Security Measures
I prioritize guest safety as a vacation rental property owner. Safeguarding my renters' well-being builds trust and encourages repeat bookings. I take precautions to secure my vacation rental.
I installed smoke detectors in every room and carbon monoxide detectors near gas appliances for safety. To keep them working, I test and replace batteries. I also placed fire extinguishers throughout the rental property.
To deter intruders, I installed high-quality locks on all doors and windows. I also installed a security alarm with motion sensors and cameras. These precautions prevent break-ins and give me and my guests peace of mind.
To prevent accidents and intruders, I light all outdoor areas at night. Lighting improves the vacation rental's atmosphere and deters crime. My vacation rental properties prioritize safety and security, so guests will feel safe and secure. Safety is only one part of a great vacation rental.
We'll discuss some helpful vacation rental tips in the next section.
Tips For A Successful Vacation Rental Experience
Ready to maximize your vacation? Some tried-and-true vacation rental tips!
Do your research: Before booking a vacation rental, take the time to thoroughly research different options. Read reviews from previous guests, check out photos, and compare prices. Look for rentals that have a high occupancy rate, as this is usually a good indication of customer satisfaction.
Communicate with the host: Once you've found a rental that suits your needs, don't hesitate to reach out to the host with any questions or concerns you may have. Good communication is key to ensuring a smooth booking process and a pleasant stay. Ask about amenities, nearby attractions, and any specific requirements you may have.
Plan ahead: To ensure availability and secure the best rates, it's always wise to book your vacation rental well in advance. Popular destinations tend to fill up quickly, especially during peak travel seasons. By planning ahead, you'll have peace of mind knowing that your accommodation is taken care of.
Be respectful of the property: Treat your vacation rental as if it were your own home. Respect any house rules set by the host and leave the property in the same condition as when you arrived. This not only shows appreciation for their hospitality but also helps maintain a positive reputation for future renters.
These tips will make vacation rental legal considerations fun!
Legal Considerations For Vacation Rentals
Avoid vacation surprises by knowing your accommodation's legal requirements. Knowing your destination's vacation rental rules is crucial. Some cities require vacation rental permits or business licenses. These permits assure guests and hosts that the property meets safety and zoning standards.
Check for short-term rental restrictions before booking a vacation rental. Vacation rentals in some neighborhoods or homeowner associations have guest limits or minimum stay requirements. It's important to research these rules before ignoring them to avoid fines or eviction.
Be aware of local vacation rental taxes and fees in your destination. Occupancy taxes on short-term rentals in some cities can increase your stay's cost. Plan your trip around these extra costs.
Vacation rental regulations protect you from legal issues and ensure a positive experience for both you and the host. These rules help sustain a responsible tourism industry.
After covering vacation rental legalities, let's maximize profit from this innovative lodging method without writing "step".
Maximizing Profit From Vacation Rentals
As a vacation rental owner, it's crucial to maximize your property's rental revenue. There are many ways to do that, fortunately.
First, vacation rental companies can maximize profit. These companies have extensive networks and marketing expertise to promote your property. These companies increase visibility and bookings by listing your property on multiple platforms. Professional photography and pricing optimization tools from vacation rental companies can boost your listing's appeal.
Second, keep up with market trends and innovate. Monitoring new technologies and guest preferences is crucial in the vacation rental industry. Adopt smart home technology. Keyless entry systems and voice-controlled devices improve guest convenience and modernize your property.
Unique experiences can boost profits. Partner with local businesses or tour operators to give your guests exclusive experiences. Guided tours, personalized cooking classes, or anything else that distinguishes your listing from others. Vacation rental sustainability can also be a selling point. Sustainable vacation rentals attract eco-conscious travelers. Consider energy-efficient appliances and guest recycling.
Finally, positive guest reviews matter. Word-of-mouth referrals boost occupancy and attract new guests. So prioritize customer satisfaction by providing excellent service and a clean, well-equipped property.
These strategies can help your vacation rental succeed and maximize profits. Remember, the vacation rental market is competitive, but with the right approach, you can stand out and make good money.
Final Thoughts
Vacation rentals give travelers a unique and personalized experience. There are many options for a country cottage or beachfront villa.
Vacation rentals can replace hotels if planned properly. To ensure a pleasant stay, read the rental property's rules. Safety and legal considerations protect guests and hosts.
Vacation rentals can be great for travelers looking for unique experiences and homeowners looking to make money by following these guidelines and managing efficiently. This article has guided you with enough information on what is a vacation rental and how it makes a vacation experience more worthwhile.
Frequently Asked Questions
How Do I Find A Vacation Rental That Allows Pets?
Many pet-friendly vacation rentals are available.
First, search Airbnb or VRBO for pet-friendly rentals. These platforms often have detailed descriptions and reviews from previous guests, indicating how pet-friendly the property is. Ask vacation rental agencies or property owners about pet policies. Ask beforehand, because some have specific requirements or restrictions.
Joining pet-friendly travel forums or communities can provide valuable advice from fellow travelers who have traveled with their pets. These resources should make finding a pet-friendly vacation rental easy!
Can I Rent A Vacation Property For Just A Weekend Or Do I Have To Book A Whole Week?
Weekend vacation rentals are possible. Many vacation rentals let you choose the length of your stay. There are many options for short or long vacations.
Don't book a whole week if you only have a few days off—enjoy the freedom and convenience of a weekend rental that fits your schedule. The vacation rental industry has made it easier than ever to find unique properties with flexible booking options, allowing you to create unforgettable experiences whenever and however long you want.
Is It Common For Vacation Rentals To Have A Cleaning Fee? If So, How Much Should I Expect To Pay?
Vacation rentals often require cleaning. Property size and type determine the cost. Some rentals charge a flat fee, while others charge by the night or number of guests.
However, cleaning fees average $50–$200. Avoid surprises by including this in your trip budget. A clean, well-maintained rental ensures a pleasant stay.
Are Vacation Rentals Typically Fully Furnished, Or Do I Need To Bring My Own Linens And Kitchen Supplies?
From my experience, vacation rentals are usually fully furnished and are a great way to experience a destination like a local. No more heavy suitcases with linens and kitchenware! These rentals provide all the amenities you need for a relaxing vacation.
Vacation rentals have everything from cozy bedsheets to well-equipped kitchens with utensils, plates, and appliances. Pack lightly—your dream vacation home awaits to make your stay unforgettable.
Can I Negotiate The Rental Price For A Vacation Property, Or Are The Rates Fixed?
Vacation rentals are often negotiable. Some owners and managers have fixed rates, but many are willing to negotiate. Find the right opportunity and ask.
Negotiate a better rate for a last-minute booking or an extended stay. Who doesn't like saving money on a great vacation rental? Try it—you never know what innovative deals await.